THE AFTER OUR BIG MOVE SALE.
FIXTURES , SHELVES. LIGHTED DISPLAY CASES, ISLAND AND WALL UNITS AND RACKS FOR YOUR STORE, SHOP,GARAGE OR WAREHOUSE THAT WE HAVE EXCESS OF ARE ALSO BEING PRICED TO MOVE AND MAKE ROOM!
Super Deals When you buy an entire lot!
Sacramento Vintage Ford Parts - California Vintage Ford Parts
11375 Sunrise Park Drive # 800
Rancho Cordova, Ca. 95742 916-853-2244
Monday - Friday 9-4 Saturday 9-2
Near Costco off Sunrise Blvd and White Rock
We are starting this listing June 2018 with the larger items and equipment. As we progress the Ford parts will start to appear here or on the Vintage Ford web site when our new computers are up and running.....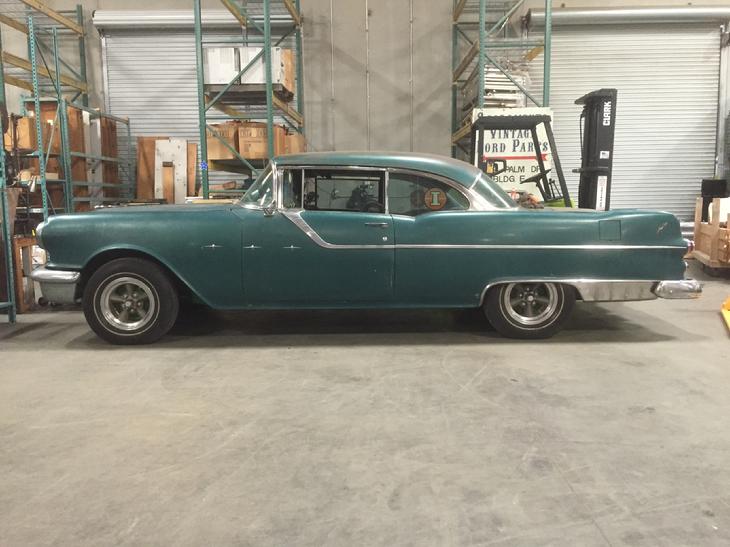 1955 Pontiac Star Chief FOR SALE $12500.916-853-2244 389 engine, 2 4bbl carbs, hydramatic, American Torque Thrust aluminum mags
1930 Model A Pickup 283 Chevy $18500. Not running - 916-853-2244
Penco Rack Available- Lots! Bay with 5 shelves....additional shelves & beams can be purchased.....cheap! 916-853-2244
More Penco Rack 4' x 8' x 8' tall Will deal on it all! - 916-853-2244
Rivet Rack Riviteer Racking- One Lot Price
Gravity Conveyors 10' lenghts - stands available Buy It All!
Smaller Rivet Racks 8 available with decks 18" x 48" x 7' tall
Neon Sign- CLASSICAL on white oval $450.Neon needs repair from our move.....Double sided
Boltless Shelving- 2' x 4' 8' tall with deck $50. each
Knight Hat-Cap Heat Sealer- Twin Head $350. will include a bunch of assorted hats if we can find them!
The Diner booths and tables will be available! These are NICE! 6 and 7 pleat backs red metallic. 6 pleat shown. Glass and laminate tables and bases.
Glass top tables with nostalgia ads under glass. $150. each.... we have diner chairs also!
These steel slat wall and peg panels and wall units will are availabe. 4' wide x 8' tall wall units. Panel also available each $20. We have hundreds by Metal Dynamics.
Large computer group tables- 8' diameter with storage and wire ports for 8 systems. On casters. $400. for both firm